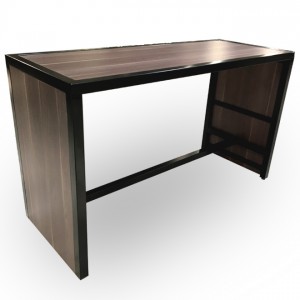 Many people are not familiar with what exactly is a dry bar table, much less how it can be utilized. Simply put, a dry bar is furniture specially built to accommodate all sorts of barware, bottles, appetizer plates, cocktail trays and napkins. Most dry bars are the same height as a counter to facilitate the preparation of drinks for guests. Some are embedded into the sides of a room and can be decked with racks, shelves, and sometimes a mini-fridge to cool down beverage. Unlike wet table bars, dry bars do not have a sink and can be placed anywhere in the venue.
A Wide Collection of Bar Tables
At HCCF Commercial Furniture, we take pride in the colossal range of dry tables that we construct for our customers. The collection range from table tops made from marble, quartz, teak and other sturdy materials. Our dry tables present a different array of styles and designs to suit any need and venue. All our dry bars are made to last; they are sturdy, durable and can be weather resistant and their surfaces are specially hardened and protected to guard against scratches and spills.

A convenient piece of hospitality furniture
The dry bar table can be a versatile piece of furniture. If you have two or three dry bar tables in your possession, they can easily be re-configured along with accompanying furniture to act as a long buffet table for your customers. Alternatively, when you are not using your dry bar tables, they can be used for placing crockery or other decorative pieces. Dry bars tables can also be conveniently used as space for displaying photo frames, porcelain or other pleasant looking objects.
Not only one but several
Having one dry bar table in your venue will looking stunning and very inviting, but imagine having more than one dry bar! Seeing that your patrons will have choice of seating to choose from will not only give your customers freedom of choice (if the availability is there!!) but it will also encourage more customers into your venue. Most of our dry bars can allow for 2 extra stools at each end, this means these dry bars wont take up any extra space on busy days or nights. Be sure to allow for your customers to walk around. How about a ready made buffet table? These dry bar tables can make excellent buffet tables for functions and private parties.
Contact us
Ring us now on 1300 289 789 and let us help you find the perfect dry bar for your venue.