Banquet Chairs
Banquet Chairs
We are very proud to offer you our new comprehensive range of banquet, dining and event seating for 2018!
A perfect addition to our ever growing range of products for the hospitality sector. Our Banquet Dining and Event Range of chairs offers the following benefits to you:
The largest range of lowest priced commercial grade banquet chairs offered in Australia
Chairs grouped into 8 categories and priced for easy searching and decision making.
Offered in a variety of powder coat and fabric finishes, including studs.
Customise to suit your venue! We've teamed up with Warwick fabrics giving you the option to put their enormous range of commercial fabrics onto our chairs. View their collections at www.warwicks.com.au
LIFETIME GUARANTEE on the frames. Not five years, not twelve years but however long YOU need the chair to last. Absolute peace of mind!
Comfortable | Durable | Stackable | Lightweight | Lifetime Warranty on Frames
View the entire collection at https://www.hccf.com.au/catalogues/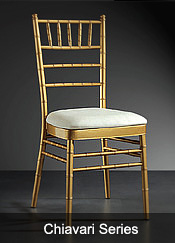 Our extensive range of Aluminium Chiavari chairs are perfect for event hire, restaurants and hotels.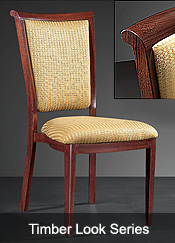 Hard to believe they're not timber! Durability of aluminium, these are a great alternative to bentwood chairs.
All about Banquet Chairs
First two things that come in mind when you are out to purchase banquet chairs is its style combined with comfort. The console felt after sitting on chairs play a huge part in making any occasion or event successful. Therefore, the quality of the chair, together with its design, volume and the material used, should always be well thought-out.
In order to choose the best style of banquet chairs, it is first important to recognize the variety of customers/guests who will be seated. The savor and expectations of every individual should be considered generally. If the interior decoration of your neighboring space varies significantly from occasion to occasion, it is paramount to opt for a basic style and color that will synchronize easily with other objects.
The available types of banquet chairs are designed in a range of styles and materials. For banquet proceedings there is a great selection of chair types available which is both practical and artistic. The expression "banquet chair" is inclusive of chairs utilized for formal and casual parties. The other styles of banquet chair are formed in either tubular steel or tubular aluminum or they are shaped by wooden material.
HC commercial furniture are providing both wooden and aluminum banquet chairs which includes Bolero, Bontanica, Brod, Chinese Restaurant, Lantern, Opera, Pazin, Scouts banquet chairs and few more to name. Latest advances in painting expertise have provided ways fordesigning both steel and aluminum banquet chairs that can then have a tinted finish that replicates the deep red color of mahogany or walnut, oak or timbers and afterwards it can be printed with a wood grain effect.
Carefully planned choices can make sure that the occasion is well planned, comfortable, and unforgettable. Today's banquet chairs come in astonishing assortment, but if you vigilantly judge what your needs are and remain within your funds, you will effortlessly find the best preference available to you. Begin by doing a easy Internet search, browse styles and prices, and then educate yourself. The rest will come clear-cut.
For more feature banquet chair ideas, look for our gallery on our website or call our representatives on 1300 289 789, who will be happy to help you choose a design, perfect for you needs. Or you could visit us at Unit 35 Vore Street, Silverwater, NSW 2128. Our doors are open from 9 am until 5 pm so, what are you waiting for?